Posted by Eunice Juanzo on Apr 5th 2023
Easter is always associated with rabbits, eggs, and…ham?? I got curious why ham is often served during Easter and found out that historically, Easter hams were made from meat that had been slaughtered in the autumn and cured over the winter months. As Easter falls in the spring, it was a tradition to consume the remaining winter-cured meat during this holiday.
So, what do you do with the leftover ham? In case you're not a fan of simply reheating your leftover ham, here are four fantastic and innovative ideas to incorporate it using Frontier Soups!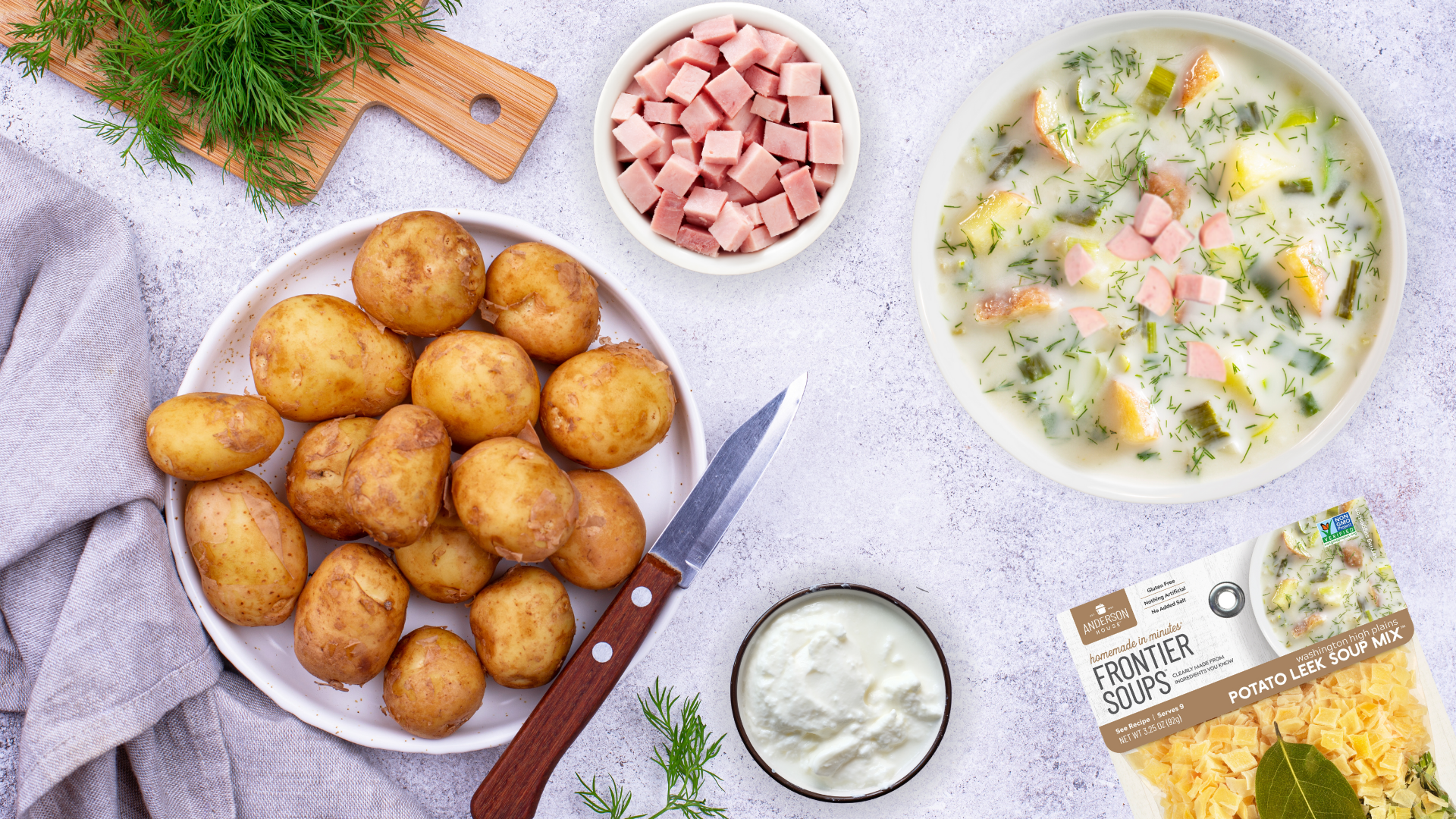 Creamy Ham & Potato Soup
Using our Washington High Plains Potato Leek Soup mix, this classic comfort food shouts perfect for chilly days! The recipe calls for a cup of diced ham with cream. In a 3 to 4 quart pot, bring the chicken broth to boil. Add the contents of the Potato Leek Soup, potatoes and cook on low for 30 minutes. Once you've gently mashed the potatoes, add in the diced ham and cream and stir until well combined. This is easy to make and sure to please everyone at the dinner table.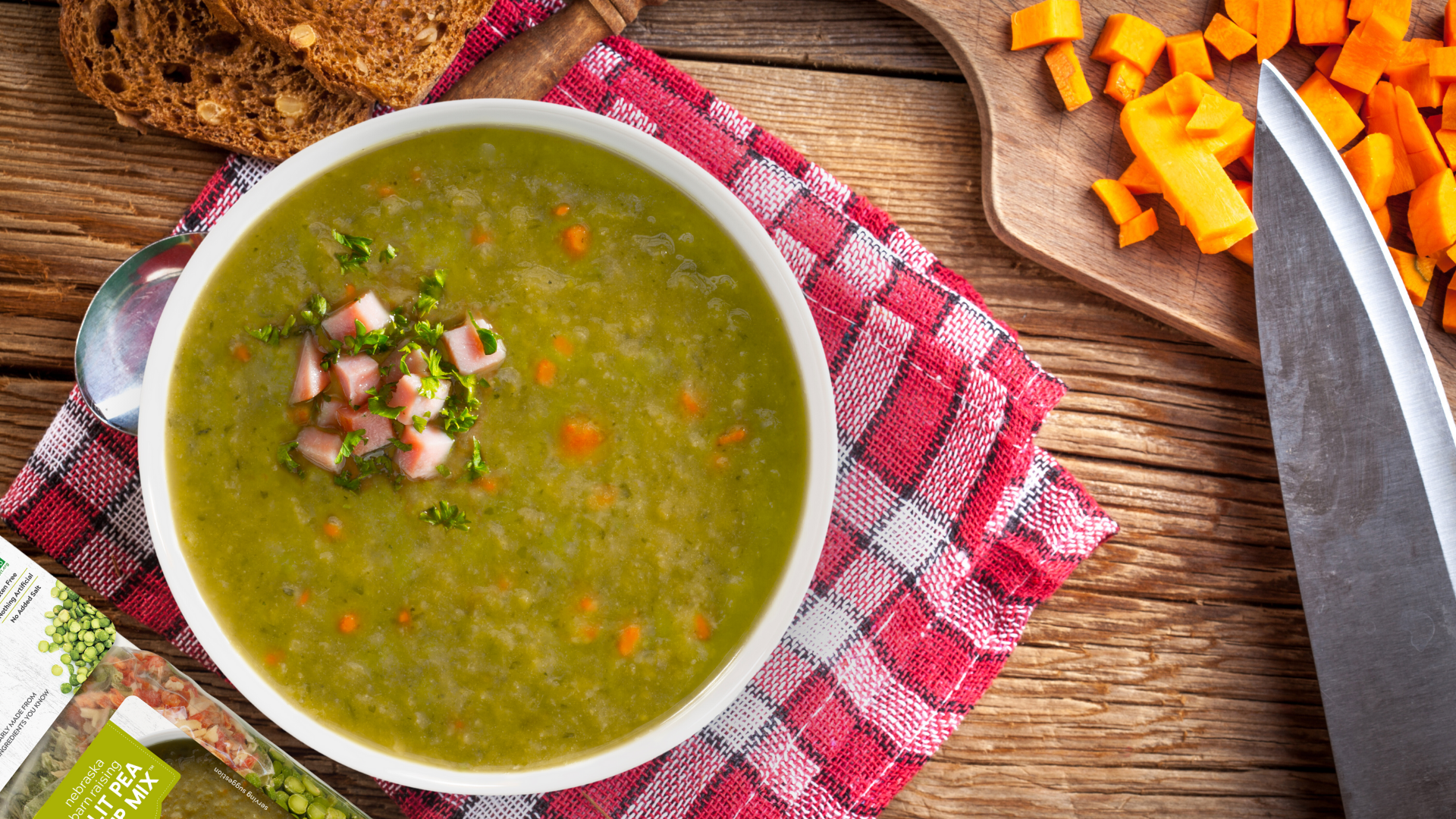 Classic Split Pea Soup with Ham Bone
If you haven't tried this, this is your sign to do so. Don't let any part of your Easter ham go to waste, use the ham bone for optimal flavor and our Nebraska Barn Raising Split Pea Soup mix for this classic split pea soup.
But first make sure you sort through the split peas and thoroughly rinse them. Place the meaty ham bone inside a pot, add the contents of the soup mix packet, split peas, and broth to the pot. Bring the mixture to a boil, then reduce the heat and simmer it covered for 2.5 hours, stirring occasionally. Add sherry just before serving, if desired, and season with salt and pepper to taste. For an extra crunch, top each bowl with croutons!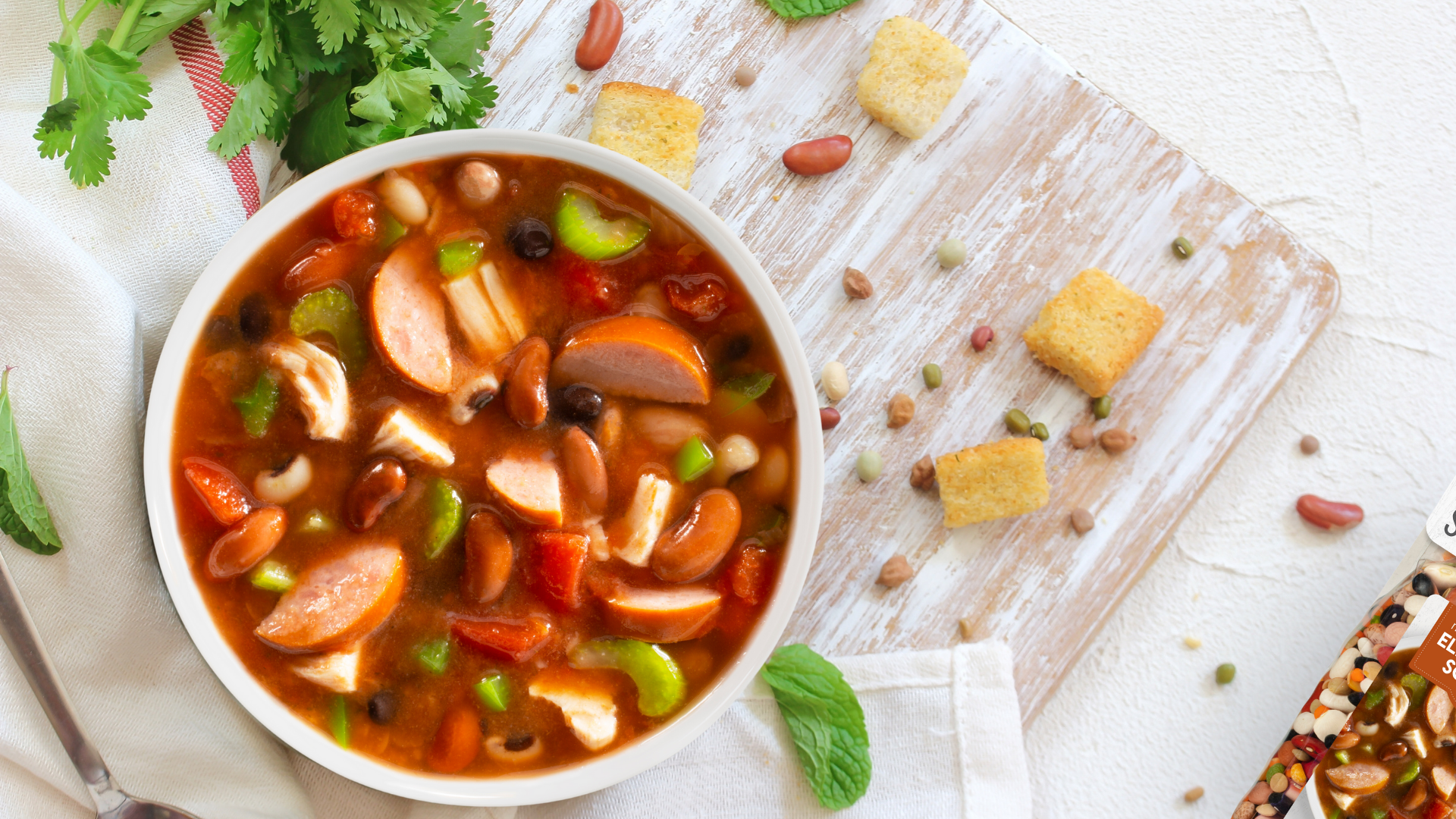 Eleven Bean Soup with Ham Hock or Ham Bone
Another option for your ham bone or ham left over is this hearty and vibrant soup that blends lentils, peas, and beans. Use the Minnesota Heartland 11 Bean Soup for this recipe.
Sort through the beans and rinse well. Put the beans and ham hock ham bone into a pot that can hold 6-8 quarts of water. Then, add 12 cups of cold water to the pot. Bring to a simmer, cover and cook on low for 3 hours. Then add the soup mix's seasoning packet, tomatoes, celery, onion, green pepper, garlic and salt. Bring soup back to a boil, reduce heat and simmer covered 1 hour. Include the sliced kielbasa sausage and cut-up chicken into the pot. Return pot to a simmer, cover and cook for 30 minutes.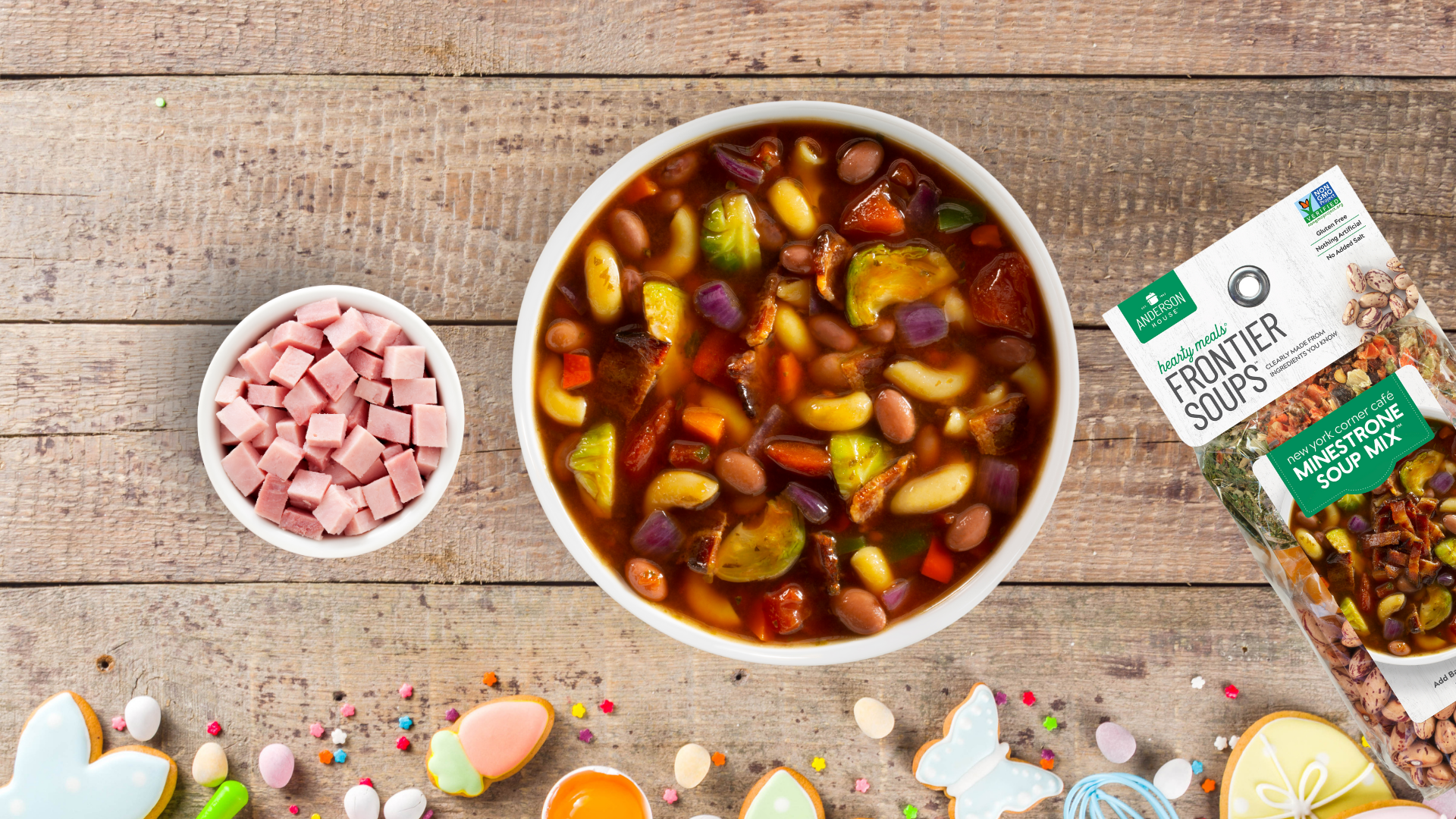 Minestrone Soup with Diced Ham
Another idea for your leftover Ham is to make a Minestrone Soup. Our recipe combines Italian seasonings, elbow macaroni, and cranberry beans. This classic soup can be enhanced with ham, bacon and brussels sprouts. Be sure to pick through the beans. Rinse well. Set aside until ready to use.
Sauté ham pieces over medium heat in a large pot for 10 minutes until nearly crisp. Add onion, if using, and sauté 5 minutes. Stir in contents of New York Corner Café Minestrone Mix vegetable packet and toss lightly. Add beans, beef broth and water to the pot. Bring to a boil, reduce heat, and simmer covered for 1 hour. Add tomatoes and brussel sprouts (or shredded cabbage). Cover and cook for 20 minutes. Add pasta and cook, uncovered, for 10 minutes.
These are just a few soup ideas to get you started, but the possibilities are endless when it comes to leftover ham!
Do you have a story or recipe that you'd like to share? Send it to eunice@frontiersoups.com and we'll feature it in our blog!