Posted by Trisha Anderson on Dec 21st 2017
December, 2017 - World AIDS Day salutes the ongoing battle against HIV that globally infects 34.5 million adults and children. LifeStitches Uganda strives to decrease the burden of AIDS for
HIV -positive women and AIDS Orphans living in West Nile Uganda. If you have received this newsletter, you've helped our mission! Our sincere thanks!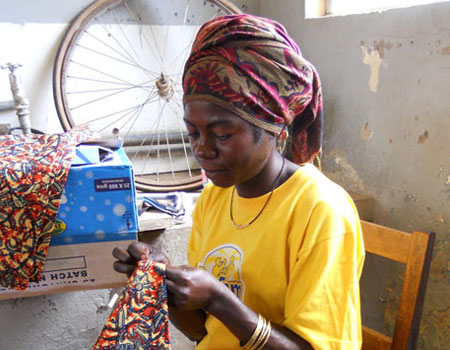 Global AIDS Today
Each day in 2017 saw approximately 5000 new HIV infections among adults and children with the majority (64%) living in sub-Saharan Africa. AIDS and its complications remains the second leading cause of death for women 15-24 years in Africa.
The good news is that through testing, treatment and prevention there have been significant gains in the AIDS battle. From 2010 to 2016, Uganda saw a decrease in new HIV infections (26,000 to 4,600, respectively) and an increase in coverage of pregnant women in PMTCT (44% to 89%, respectively).
Read more: UNAIDS Global Report 2017
LifeStitches vs AIDS Stigma
" ... many women living with HIV are hesitant to disclose their HIV status due to fear of negative outcomes such as violence, abandonment, relationship dissolution and stigma" (WHO 2015).
LifeStitches has continued in 2017 helping HIV-positive women overcome AIDS Stigma with three self- sustaining sewing workshops located in Maracha and Arua.
Additionally, we use donor dollars to support our mothers in :
AIDS orphan school uniform program
Literacy classes
Bike Repair Shop start-up business
'Ride to Own' bike program
Read more: AIDS stigma barriers, WHO 2017
Next Step- WASH! (Water and Sanitation Hygiene)
AIDS Orphan School Program
We are off to a great start with the outreach social programs for the AIDS Orphan girls at Ruva Primary Spring 2017.
Now LifeStitches is ready to begin work on improving the poor clean water and latrine conditions at the school. We are partnering with the Rotary Arua and Rotary Space Center Houston to assist this endeavor which will tackle repair and rebuilding of latrines, a clean water borehole, water tanks and hand washing wash stands and teacher housing on the school grounds.
We would greatly appreciate any End of Year Donations to help start this work in 2018.