Posted by Trisha Anderson on Jun 16th 2016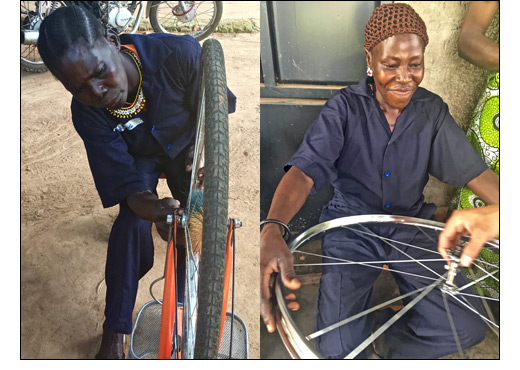 Breaking Sterotypes! Women Run Bike Repair Shops Now Underway
We began March 2015 with a small group of mothers at both the Workshops in Arua and Maracha hired instructors, build stools to sit on, acquired tools and tool box. Eventually the mothers requested 'coveralls' so they could get down to work on the bikes… not possible in their regular clothes.
But the real breakthrough came this past March 2016 when we had an expert cyclist and bike repair person- Tony Gradillas do intensive training for the mechanic instructors and the mothers. How? They put together from parts out of the box, the local Chinese made bikes. The work was grueling, outside on the veranda in the heat! But in the end, thanks to Tony, all became experts in bike repair and are now ready for customers from the local community. Here donor dollars will be very helpful to subsidize this business as we grow it over the next two years.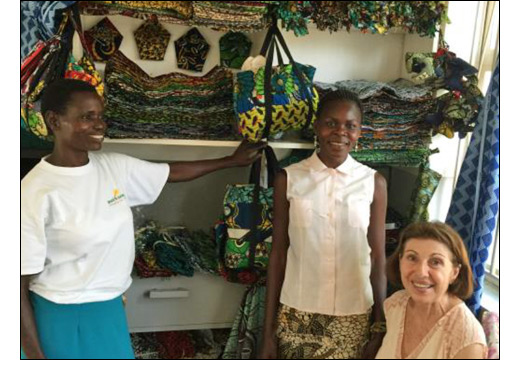 LifeStitches African Crafts Shop Draws Local Customers
Located inside our flagship LifeStitches Hospital Workshop on the Arua Regional Referral Hospital Grounds, local drop-in sales from the town has been formalized into a wonderful shop. We call it the 'Shop-Shop' but the sign outside reads: LifeStitches African Crafts Shop.
Managed by Lucy Adiru, a long time staff member, the shop got a new face lift this March 2016 when Susan
Klein, LifeStitches Board Member, worked with Lucy together with Product Manager, Agnes Adiru to improve the display of products for sale.
This shop, along with sales at local Uganda events such as the American Embassy Holiday sale in Kampala, and Banana Boat African Craft Store in Kampala, all help the LifeStitches sewing workshops to grow their autonomy and sustainability.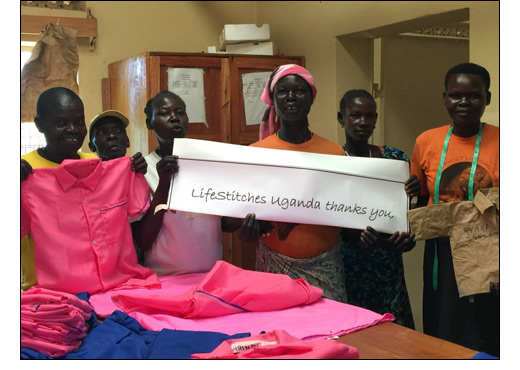 AIDS Orphan School Uniform Program Continues in Maracha
Thanks to a Peace Corps grant over the past two years and the coordination of Penny Kessler, Peace Corps volunteer, the Maracha mothers have had a fantastic opportunity to learn how to tailor school uniforms and 750 local AIDS Orphan students have benefited from the uniforms!
Below are some of the members of this program which we would like to continue and extend to other local schools and AIDS Orphan students in 2016-2017. Also, money earned from this program enables mothers to save to purchase their own sewing machines, an important goal for their sustainability.